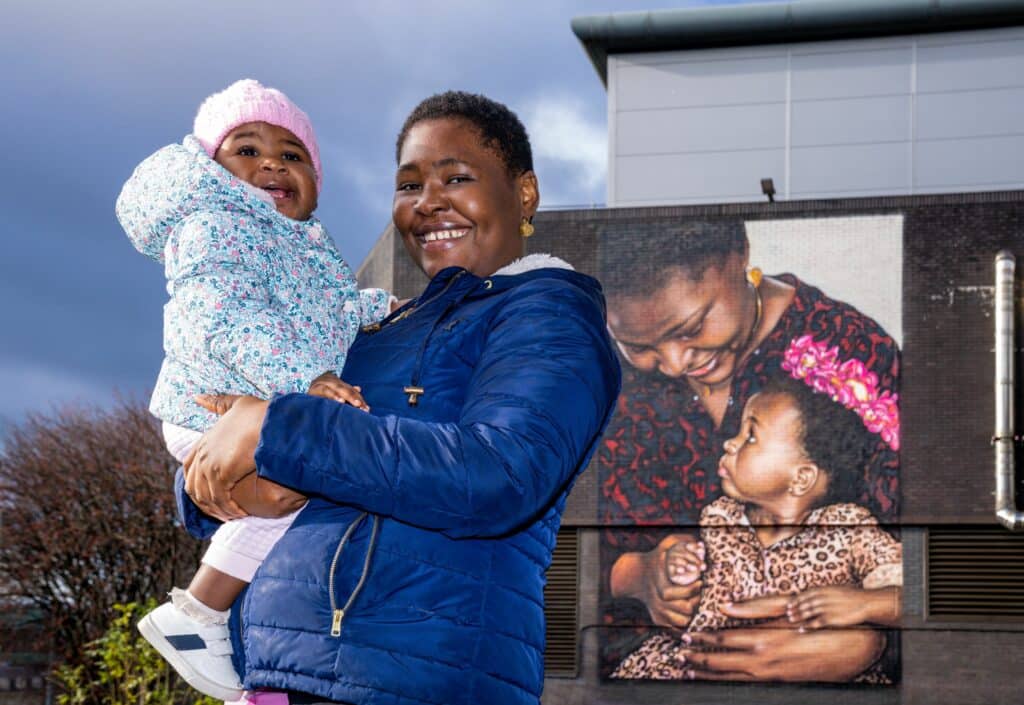 On November 8, 2022, Amma participated in the unveiling of a mural outside Glasgow's Princes Royal Maternity Hospital. The mural artist, Frank Carty (@artisanartworks), beautifully captured the special bond between Amma Family member, Albright, and her daughter, Adelia, adorned by a flower crown provided by Glasgow Flower Gardens (@glasgowflowergardens).

The idea for the mural was developed by concept artist and campaigner, Rachel Dallas, who is the driving force behind several Black Lives Matter murals throughout Glasgow. When NHS Greater Glasgow & Clyde agreed to commission the mural, Rachel collaborated with Amma to connect with Black mothers who were interested in participating in the project.

In July 2022, four Amma Family members, Albright, Comfort, Busayo, Mariam — along with their babies —joined photographer Najma Abukar (@najmahusseinabukar) for a photoshoot. Whilst the aim of this project was to celebrate Black motherhood, it was also intended to draw attention to the significant racial health disparities in perinatal care across the UK.
Photo credit: Najma Abukar
According to a 2022 MBRRACE report, Black women and birthing people are nearly four times more likely to die during their pregnancy, birth or in the immediate postpartum period than their white counterparts. Poorer health outcomes for Black women and birthing people are influenced by many factors, including but not limited to implicit bias on the part of healthcare providers who may have preconceptions about Black people and Black bodies.
On top of this, our maternity system is being pushed to breaking point. Midwives are overworked, underpaid, and forced to work in highly pressurised, unsafe conditions, as highlighted by the results of a recent Royal College of Midwives' members ballot. Balloted members voted overwhelmingly in support of industrial action short of a strike (94%) and for strike action (88%), demanding better pay and conditions. This is not a decision that midwives and other maternity workers take lightly and is indicative of the severity of the situation for workers and birthers alike.
The poor shape of our maternity services has negative impacts on almost all women and birthing people who are accessing maternity care. Sadly, but unsurprisingly, these negative impacts are magnified for Black women and birthing people, as well as other racialised groups. Racism and misogyny intersect with legacies of white supremacy and colonialism, and the poor state of labour rights and conditions for those working in the maternity system to create the conditions in which Black parents and their babies are suffering.
This mural celebrates and asserts the beauty and power of Black mothers and birthing people, even in the face of massive systemic racial inequality. It is also a powerful reminder of the people relying on a system which is currently failing mothers, birthing people, babies and workers. It is a public declaration of a commitment to racial equality and justice, and an invitation to continue to hold this hospital and others like it to account, to co-create a maternity system where everyone receives not just adequate care, but excellent care.
We hope the mural, positioned on the wall next to the out of hours and ambulance entrance, will be a reminder to staff, parents and visitors of the strength, beauty, dignity and humanity of Black mothers and birthing people and, by extension, all mothers and birthing people.
Amma is proud to support campaigners and organisations including Five x More, Birthrights, Maternity Action, Mars Lord, and many more who tirelessly advocate for the rights of Black mothers and birthing people on both individual and systemic level. Follow their work for more information.